BarterWATER MIssion Launched at UN 2023 Water Conference
/** * @var $module \Ucraft\Module */ ?>
Li Junhua, Secretary-General of the UN 2023 Water Conference

"This will be an occasion to unite the global community to take action and address the broad challenges surrounding water"

ANTÓNIO GUTERRES, SECRETARY-GENERAL OF THE UNITED NATIONS

The UN 2023 Water Conference in March must result in a bold Water Action Agenda that gives our world's lifeblood the commitment it deserves.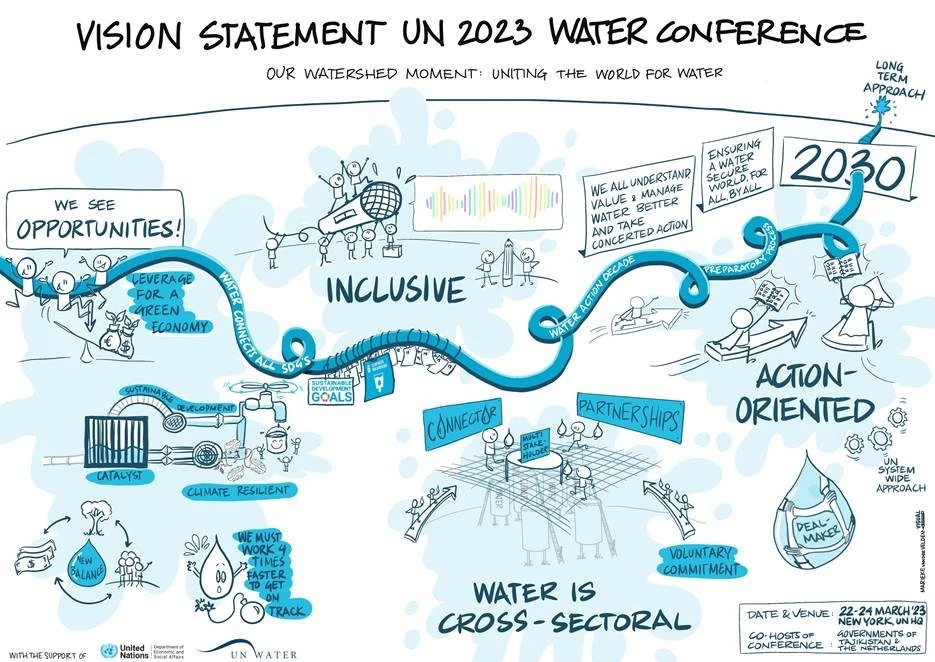 The UN Water Conference emphasized the importance of water as a "dealmaker" for multilateral cooperation and achieving the Sustainable Development Goals (SDGs). Co-hosted by the Governments of the Netherlands and Tajikistan, the conference resulted in the development of a Water Action Agenda that includes new and ambitious commitments from member states and stakeholders.

The conference highlighted several key agendas, including "Water for Sustainable Development" which values water, promotes the water-energy-food nexus, and supports sustainable economic and urban development. Another important agenda is "Water for Climate, Resilience, and Environment" which emphasizes source to sea, biodiversity, climate, resilience, and disaster risk reduction (DRR). These agendas demonstrate the vital role of water in promoting sustainable development and environmental resilience.
GLOBAL LAUNCH OF 'BARTERWATER FOR SUSTAINABILITY'
A sustainable model for rural WASH
To Barter Drinking Water as the basis for the actions and activities required for the agendas of Sustainable Developments Goals, and for Sustainable Local Economy.

WATER BANK'S UN WATER ACTION - VIRTUAL EVENTS
WATER BANK'S UN WATER ACTION - SIDE EVENTS
/** * @var $module \Ucraft\Module */ ?>
Saket Kumar, President - Water Bank Foundation Trust

Water is the basis of Ecology, Water shall be the basis of local, sustainable Economy

Rashi Bunny, Healer and Trustee of Water Bank Foundation

"We are not just pulsating electro-magnetic fields, the currency of consciousness flows through us: as Peace, as Light and as Water"
The year 2023 marks the halfway point of the International Decade for Action "Water for Sustainable Development" (2018-2028), which has become increasingly relevant due to the escalating water crisis and ecological devastation around the world.

Water Bank has been granted special accreditation for the UN 2023 Water Conference and has been approved to organize two virtual events and two side events outside of the UN headquarters during the conference. Water Bank is eager to showcase its impact mechanisms and missions and collaborate with individuals and organizations working towards water action.

Water action is a collective responsibility that transcends boundaries and encompasses various fields, ranging from energy to education, and from individual actions to governance. It is imperative that everyone takes proactive steps to address the growing concerns of water availability and quality.